WELCOME TO YOKOHAMA JAPAN
Yokohama is the birthplace of Japan's modern culture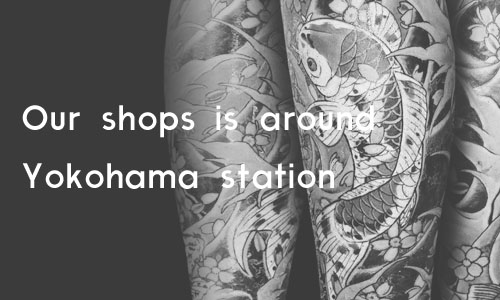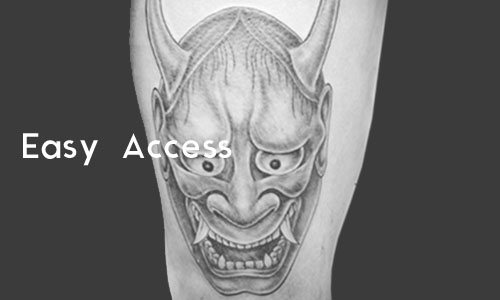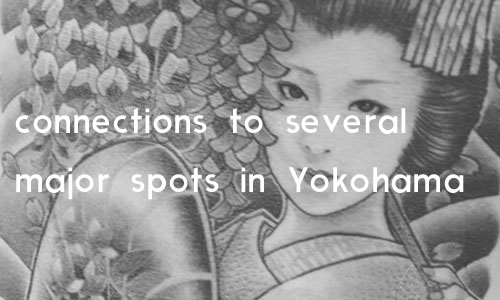 We are looking forward to you visiting our shops
GETTING TO FANATIC TATTOO YOKOHAMA
ADDRESS : stork bldg 8F&3F,2-12-6,minamisaiwai,nishi-ku,yokohama,kanagawa,japan
PHONE : 045-290-6910
OPEN : BASE 12:00p.m - 8:00p.m closed on Thursdays
                2ND 14:00p.m - closed on Tuesdays&Wednesdays
To Yokohama Base&2ND
Find Sotetsu-line(train) exit. When you get out the station go towards ABC-mart and asbee. Then cross the river and go straight down the road. You will see Vivre on your right. And keep going along the road. Then you will see Mcdonalds on your left. Still kep going on then there is a junction. Not cross it but take left then you will see Ra-men stand Yoshimuraya. Our studio is the same bulding on 8th floor.
MAPS(en) : https://goo.gl/maps/EVCww2GvmHA2
ADDRESS : aihara bldg 4F,2-61,miyagawa-cho,naka-ku,yokohama,kanagawa,japan
PHONE : 045-325-8259
OPEN : every day 12:00p.m - 8:00p.m
To Yokohama Lounge
The nearest station is Hinodecho Station on the Keikyu Line.(about 3 minutes on foot)
There is one exit. Walk out till you see the road. There is a junction. With the station behind you cross diagonally. Once you crossed over, aim towards the convenience store called Lawson.
There is a gray building next to it. Our studio is on 4th floor of it.
MAPS(en) : https://goo.gl/maps/QmtMsipcYir
C

REATE WITH US?

If you have any inquiries, please feel free to contact us. Our staff will reply to your message.

 

 
Overview
Yokohama is located in the centre of Japan, along the coastline of Japan's Pacific Ocean, and Japan's second largest city with a population of over three million. Yokohama is located less than half an hour south of Tokyo by train.
Yokohama is the first harbor city introduced to the world as the entrance to Japan. Since the time its port was opened, a number of foreign enterprises have established their branches in Yokohama by taking full advantage of the Yokohama Port which is an international trading port.
Yokohama is a city of dreams because it is not only very famous as a tourist mecca, but also has every urban function including, but not limited to, business and culture.
Railway
Yokohama is served by four railway companies (Japan Railways, Tokyu Railways, Keikyu Railways and Sagami Railways, better known as Sotetsu), two municipal subway lines and a bus network that is operated partly by the city and partly by private bus companies. Train lines of all four railway companies and the subway line pass through Yokohama Station, located in the city center.
Walk
Most parts of central Yokohama can be explored on foot. It is very pleasant to walk from Minato Mirai along the waterfront to Yamashita Park, visiting Osanbashi Pier along the way, and then proceed from Yamashita Park to the nearby Yamate district or Chinatown.
Bus
For those who prefer not to walk long distances, there is the Akaikutsu Loop Bus which connects Sakuragicho Station with most sights of interest in central Yokohama. Buses run every 30 to 40 minutes in one direction only. The fare is 100 yen per ride or 500 yen for a day pass, which is not only valid on the Akaikutsu buses, but also other selected means of transportation in central Yokohama.
Boat
It is also possible to travel by boat. The Seabass travels between Yokohama Bay Quarter (about 500 meters from Yokohama Station's east exit), Minato Mirai and Yamashita Park approximately every 15 minutes. Half of the services travel nonstop to Yamashita Park (15 minutes), while the others make two stops in Minato Mirai (10 minutes to Pacifico Convention Center; 20 minutes to Red Brick Warehouses) along the way.

The Landmark Tower
The Sky Garden is Japan's highest observation deck on the 69th floor of the Landmark Tower, the tallest building in Yokohama standing at 296 meters. The observatory provides a 360-degree, panoramic view of Yokohama city, the Yokohama Bay Bridge, and the Tokyo Tower and Mount Fuji on clear days.

Yokohama Cosmoworld
Located in the heart of Minato Mirai, YOKOHAMA COSMOWORLD is an amusement park famous for its prominent image on the Yokohama skyline an amusement park known for its gigantic Ferris wheel and a roller coaster that virtually plunges into the water. YOKOHAMA COSMOWORLD is scenic and beautiful by day and the lighting make it a romantic place to walk at night.

Cupnoodles Museum
It also has interactive features: You can make your own noodles starting from the kneading of dough or create your own cup and combine ingredients to make your original instant noodles out of 5,460 possible flavor combinations.

Sankeien Garden
The vast classical Japan garden covering over 175,000 square meters, renowned for its seasonal beauty. Sankeien contains many hisotrical houses and buildings that are recognized as being culturally significant by the government. These buildings were brought to the park from locations all over the Japan, and include a three storied pagoda located high up on a hill deep inside the garden. This pagoda, originally constructed in Kyoto in the mid-1400s, was relocated to Sankei-en in 1914.  As you stroll through the park you will find bridges, streams, small waterfalls, bamboo groves, and ponds. In late March or early April, the cherry blossoms (sakura) are in full bloom. In July and August, there is a pond just inside the entrance that is bursting with the beauty of thousands of Japanese pink lotus blossoms. In late autumn, you can enjoy the changing color of the leaves. In winter, plum blossoms (ume) start to bloom in mid to late February; nature's way of telling the Japanese people that winter is almost over.

Narita-san Yokohama Branch Temple
The treasured Buddha statue of the Tokugawa family, Fudomyouo, which is said to fulfill people's wishes is enshrined. Narita-san Yokohama Branch Temple Enmei-in is located on a hill, and offers views of the town of Noge and the Minatomirai area. The temple grounds also include Daishido (Founder's Hall) where Kobo Daishi (another name for Kukai) is enshrined, Inarido, and old Buddha statues offering an enjoyable walk.

Nogeyama Zoological Gardens
Located on a hilltop in a quiet residential neighborhood, Nogeyama Park is a great place to escape the crowds and enjoy the peaceful greenery and wide open spaces. When walking around it is hard to believe that you are only a few minutes away from one of the liveliest parts of Yokohama. A short distance away from this park is another interesting place worth visiting, Nogeyama Zoological Gardens. This Zoo makes a nice place to spend several hours wandering around the various enclosures. There are about 100 different species of animals including monkeys, wild cats, birds and several Red Pandas.

Yokohama Red Brick Warehouse
Situated right on the bay, the views are beautiful. Formally the Customs Inspection House for Yokohama Bay's shipping activities in the early 1920's, these handsome red brick buildings have been converted into one of Yokohama's most popular family or date spots. Inside the building there are many unique shops and restaurants. Outside, throughout the year, numerous events take place. October Beer Fest in autumn, a skating rink in winter, and concerts during the summer.

Yamashita Park
It is one of the most popular and best loved areas in Yokohama where you can experience the distinctive atmosphere and history of this harbor town. A number of antique historic pieces of architecture in western style which are symbols of the Yokohama culture, restaurants with a long tradition, and classy hotels distinguish the area

Yokohama Chinatown
Yokohama Chinatown is one of the largest and the best with as many as approximately 500 Chinese restaurants, Chinese grocery stores and plenty of other shops standing side by side on the streets.

Pokemon Center Yokohama
coming soon

Yokohama Hammerhead
coming soon

Marine & Walk Yokohama
coming soon

Asobuild
coming soon

Noge
coming soon

Noh Theater
coming soon